Perimeters
The use of steel Pan Perimeters in automated storage machines allows for safe storage of items whether they are large or small. Pan Perimeters frame the pan and, combined with Partitions and Cross Dividers, produce an organization system that is versatile and secure.
4 Basic Styles: Slotted Strip, Lock-together, Un-slotted and Heavy Duty Bolt-together
- Our Slotted Strip Kit is designed to convert a plain un-slotted pan into a fully dividable
pan in just minutes! These kits are manufactured with an adhesive strip that takes
minimal effort to install. Kits are also being used in some types of slotted pans due to the
ease of installation and divider system security!
- Perimeter Kits increase the height of your pan wall so that you can securely store
product. Our Perimeter Kits come in easy-to-install styles and designs.
- Any Height, Width, Length and Pattern can be manufactured.
- All Kits can be made to fit pans with interior pan obstructions.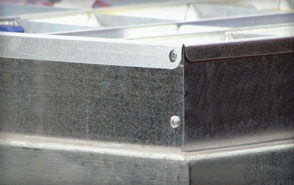 "Un-Slotted" Design Perimeter Kits
Welded Center Obstruction Solution
PAN KIT EXAMPLES:
Full Kit Example 2
Full Kit Example 3
Full Kit Example 4 - Small Parts Storage